JJ Jenks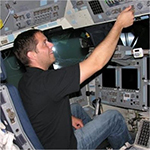 Pacific Northwest National Laboratory
PO Box 999
Richland, WA 99352
Send Email
Biography
JJ joined PNNL in 2009 after working as a flight controller at NASA's Johnson Space Center. He is a mechanical engineer with a background in thermo/fluids sciences and is presently leading efforts on PNNL's HARP advanced power generation and MARCool chilling systems. He has worked as a technical contributor, a test engineer and a project task manager. He has led tasks that involve experimentation and modeling of heat and mass transfer. With over 10 years of experience in advanced energy systems, his research interests are primarily in thermally driven energy conversion systems including microscale heat/mass transfer, nanofluids, geothermal systems, combined heat and power (CHP) systems, solar-thermal driven power systems, refrigeration, cooling and desalination. JJ has played an integral role in business development and technology commercialization at the lab through partnering with industry and securing several patents. In addition, he's been responsible for the design, construction and commissioning of large, full-scale experimental fluid test apparatuses at PNNL. Most recently, he was a recipient of a 2017 R&D 100 award for his part as the lead engineer of PNNL's patented MARCool system.
Mr. Jenks has conducted experiments relating to particle settling as well as microscale heat transfer using Metal Organic Heat Carriers (MOHCs). He has developed microscale test facilities using fluids laden with nanoparticles that have a strong potential for improving geothermal power generation. With his team, he has developed heat and mass exchangers that were manufactured using aluminum 3D direct metal laser sintering DMLS printers. He has used AspenPlus® and Ansys-Fluent to model problems such as cyro-separation of CO2 from flue gas and adsorption chiller heat and mass transfer phenomena. Working with researchers focusing on building energy efficiency, he spent significant time metering and analyzing building energy systems for the DOD and DOE. This research involves instrumenting entire buildings and completing a balanced building energy analysis to determine the viability of energy efficient technologies, such as advanced chilling systems. Most recently, JJ has performed component, prototype and system modeling and experimentation for adsorption chillers and heat-pumps using a commercial CFD package (Fluent) along with Aspen-Plus. He has played the lead role in developing the rapid prototype lab, the thermal compressor test facility (TCTF) and the advanced energy systems lab (ARES).
JJ came to PNNL after two years at NASA-JSC as a flight controller at the Mission Control Center. While there, Mr. Jenks worked with domestic and international colleagues to develop operation and malfunction procedures for systems aboard the International Space Station and Space Shuttle. His primary focus was on the integration of Japans H-II Transfer Vehicle (HTV) and the space station. In 2004, his proposal was selected by NASA to conduct a fluids mixing experiment in microgravity aboard NASA's "vomit comet" the KC-135. JJ is currently working on his PhD part-time through the Mechanical and Aerospace engineering departing at the University of California-Davis with and expected graduation date of 2020. He currently holds PNNLs joint appointment with the Western Cooling Efficiency Center at UC-Davis.
Research Interests
Advanced Energy Systems
Multiphase Flow & Phase Change
Combined Heat & Mass Transfer
Thermally Driven Compression
Additive Manufacturing of Advanced Heat Exchangers
Desalination
Combined cooling, heat & power (CCHP)
Environmental Control & Life Support Systems for Space Vehicles
Supercritical CO2 Power Systems
Education and Credentials
PhD in MEchanical Engineering, UC-Davis, Davis CA, 2017-Present
M.S in Mechanical Engineering, Oregon State University, Corvallis OR, 2007
B.S. in Mechanical Engineering, Oregon State University, Corvallis OR, 2005
Mechanical Engineering Studies, Portland State University, Portland OR, 2002
Engineering Information Technology Studies, University of Sussex, United Kingdom, 2001
Affiliations and Professional Service
American Society of Mechanical Engineers (ASME)
Pi Tau Sigma, M.E. Honor Society
Management SKills & Development Program (MSDP)
Awards and Recognitions
R&D 100 Award, Lead engineer of PNNL's patented MARCool System, 2017
PNNL Patents
PNNL Publications
2020
Zheng J., D. Barpaga, B.A. Trump, M. Shetty, Y. Fan, P. Bhattacharya, and J. Jenks, et al. 2020. "Molecular Insight into Fluorocarbon Adsorption in Pore Expanded Metal-Organic Framework Analogs." Journal of the American Chemical Society 142, no. 6:3002-3012. PNNL-SA-145757. doi:10.1021/jacs.9b11963
2019
Jenks J., B.P. McGrail, R.K. Motkuri, N. Phillips, and P. Porter. 2019. "Grid Adaptive Harmonic Adsorption Recuperative Power and Cooling System." In PROCEEDINGS, 44th Workshop on Geothermal Reservoir Engineering Stanford University, Stanford, California, February 11-13, 2019, SGP-TR-214. PNNL-SA-141112.
2017
Jenks J., R.K. Motkuri, W.E. TeGrotenhuis, B.K. Paul, and B.P. McGrail. 2017. "Simulation and Experimental Study of Metal Organic Frameworks Used in Adsorption Cooling." Heat Transfer Engineering 38, no. 14-15:1305-1315. PNNL-SA-129940. doi:10.1080/01457632.2016.1242965
2016
Nandasiri M.I., J. Liu, B.P. McGrail, J.W. Jenks, H.T. Schaef, V. Shutthanandan, and Z. Nie, et al. 2016. "Increased Thermal Conductivity in Metal-Organic Heat Carrier Nanofluids." Scientific Reports 6. PNNL-SA-116018. doi:10.1038/srep27805
2015
Jenks J.W., W.E. TeGrotenhuis, R.K. Motkuri, B. Paul, and B.P. McGrail. 2015. "A COMPUTATIONAL AND EXPERIMENTAL STUDY OF METAL AND COVALENT ORGANIC FRAMEWORKS USED IN ADSORPTION COOLING." In ASME 2015 13th International Conference on Nanochannels, Microchannels, and Minichannels collocated with the ASME 2015 International Technical Conference and Exhibition on Packaging and Integration of Electronic and Photonic Microsystems, July 6-9, 2015, San Francisco, California, Paper No. ICNMM2015-48822; V001T03A012. New York, New York:ASME. PNNL-SA-116030. doi:10.1115/ICNMM2015-48822
2013
Bontha J.R., P.A. Gauglitz, D.E. Kurath, H.E. Adkins, C.W. Enderlin, J. Blanchard, and R.C. Daniel, et al. 2013. "Experimental Challenges and Successes in Measuring Aerosol Concentrations at Prototypic Spray Conditions Encountered at the Hanford Waste Treatment and Immobilization Plant - 13327." In Waste Management Symposia (WM2013): International Collaboration and Continuous Improvement, February 24-28, 2013, Phoenix, Arizona. Tempe, Arizona:WM Symposia. PNNL-SA-92681.
Daniel R.C., P.A. Gauglitz, C.A. Burns, M.S. Fountain, R.W. Shimskey, J.M. Billing, and J.R. Bontha, et al. 2013. Large-Scale Spray Releases: Additional Aerosol Test Results. PNNL-22415; WTP-RPT-221 Rev.0. Richland, WA: Pacific Northwest National Laboratory. Large-Scale Spray Releases: Additional Aerosol Test Results
Denslow K.M., J.R. Bontha, H.E. Adkins, J.W. Jenks, D.F. Hopkins, M.G. Thien, and S.E. Kelly, et al. 2013. "System Performance Testing of the Pulse-Echo Ultrasonic Instrument for Critical Velocity Determination during Hanford Tank Waste Transfer Operations - 13584." In Annual Waste Management Symposium (WM2013): International Collaboration and Continuous Improvement, February 24-28, 2013, Phoenix, Arizona, 7, 5916-5938. Tempe, Arizona:WM Symposia. PNNL-SA-92964.
McGrail B.P., P.K. Thallapally, J. Blanchard, S.K. Nune, J.W. Jenks, and L.X. Dang. 2013. "Metal-Organic Heat Carrier Nanofluids." Nano Energy 2, no. 5:845-855. PNNL-SA-92428. doi:10.1016/j.nanoen.2013.02.007
2012
Denslow K.M., J.R. Bontha, H.E. Adkins, J.W. Jenks, and D.F. Hopkins. 2012. Hanford Tank Farms Waste Feed Flow Loop Phase VI: PulseEcho System Performance Evaluation. PNNL-22029. Richland, WA: Pacific Northwest National Laboratory. Hanford Tank Farms Waste Feed Flow Loop Phase VI: PulseEcho System Performance Evaluation
Denslow K.M., J.R. Bontha, H.E. Adkins, J.W. Jenks, C.A. Burns, P.P. Schonewill, and D.F. Hopkins, et al. 2012. "Continued Evaluation of the Pulse-Echo Ultrasonic Instrument for Critical Velocity Determination during Hanford Tank Waste Transfer Operations." In Waste Managemetn Symposium (WM 2012): Improving the Future in Waste Management, February 26-March 1, 2012, Phoenix, Arizona, Paper No. 12518. Tuscson, Arizona:Waste Management Symposia Inc. PNNL-SA-85110.
Fountain M.S., J. Blanchard, R.L. Erikson, D.E. Kurath, D.T. Howe, H.E. Adkins, and J.W. Jenks. 2012. "Design of a Particle Shadowgraph Velocimetry and Size (PSVS) System to Determine Particle Size and Density Distributions (PSDD) in Hanford Nuclear Tank Wastes." In Waste Management Symposium (WM 2012): Improving the Future in Waste Management, February 26 - March 1, 2012, Phoenix, Arizona, Paper No. 12280. Tucson, Arizona:Waste Management Symposia, Inc. PNNL-SA-85041.
Schonewill P.P., P.A. Gauglitz, J.R. Bontha, R.C. Daniel, D.E. Kurath, H.E. Adkins, and J.M. Billing, et al. 2012. Large-Scale Spray Releases: Initial Aerosol Test Results. PNNL-21333; WTP-RPT-217 Rev.0. Richland, WA: Pacific Northwest National Laboratory. Large-Scale Spray Releases: Initial Aerosol Test Results
2011
Bontha J.R., K.M. Denslow, H.E. Adkins, J.W. Jenks, C.A. Burns, P.P. Schonewill, and G.P. Morgen, et al. 2011. "EVALUATION OF THREE ULTRASONIC INSTRUMENTS FOR CRITICAL VELOCITY DETERMINATION DURING HANFORD TANK WASTE TRANSFER OPERATIONS - 11121." In 37th Annual Radioactive Waste Management Symposium (WM 2011): Global Achievements and Challenges in Waste Management, February 27-March 3, 2011, Phoenix, Arizona, 5, 3999-4013. Tempe, Arizona:WM Symposia. PNNL-SA-77135.
Denslow K.M., J.W. Jenks, J.R. Bontha, H.E. Adkins, C.A. Burns, P.P. Schonewill, and N.N. Bauman, et al. 2011. Hanford Tank Farms Waste Certification Flow Loop Phase IV: PulseEcho Sensor Evaluation. PNNL-20350 FINAL. Richland, WA: Pacific Northwest National Laboratory. Hanford Tank Farms Waste Certification Flow Loop Phase IV: PulseEcho Sensor Evaluation
2010